Hydraulic AUTOMATIC OILING SYSTEMS
CHAIN AND SPROCKET OILER
The LubeMinder® Automatic Oiler lubricates chains and sprockets to eliminate manual equipment maintenance during critical harvest periods. The fully adjustable pump requires no electricity and can automatically oil up to 10 chains and sprockets. Oil is pumped to the system's brushes, which clean debris off equipment chains and disperse the oil to pin bushing joints. The LubeMinder® applies oil while the chain is warm and running, consistently oiling to minimize metal-to-metal contact and cool equipment parts. LubeMinder® Oiling Systems are engineered specifically for combines, round balers, volumetric mixer trucks, forage harvesters, mower conditioners, windrowers, manure spreaders, potato and beet harvesters, and disc harrows.
Key features and benefits:
Increases chain life by 3 times: specifically engineered brushes clean chains and sprockets while applying oil to all moving parts, increasing equipment life and resale value.

Climate control: fully adjustable pump allows modification of dispensing rate and ensures that all chains and sprockets are properly oiled regardless of climate or condition.

Eliminates downtime: lubricating while parts are warm and running allows oil to penetrate pin and brush joints.

Made in America.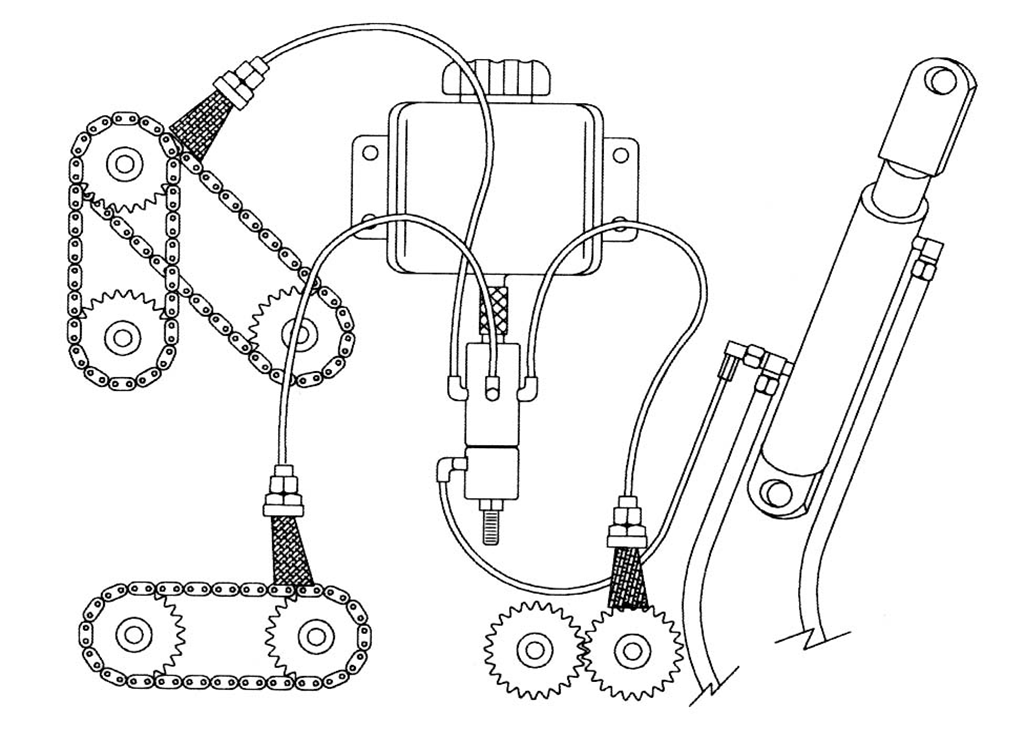 Sizing & Ordering Information
| MODEL TYPE | ITEM # | DESCRIPTION |
| --- | --- | --- |
| | | 1-4 BRUSH UNIVERSAL KIT (HYDRAULIC LINE NOT INCLUDED) |
| | | 5-8 BRUSH UNIVERSAL KIT (HYDRAULIC LINE NOT INCLUDED) |
John Deere
All John Deere kits must be purchased through local dealers
| MODEL TYPE | ITEM # | DESCRIPTION |
| --- | --- | --- |
| | | ZERO SERIES; 450, 550, AND 9 SERIES; 449, 459, 559 (5 CHAINS) |
| | | ZERO SERIES W/ PRE-CUTTER, 5' & 6' DIAMETER BALES (7 CHAINS) |
| | | ZERO-R, ZERO-M, AND 9 SERIES; 6' DIAMETER BALES W/O PRE-CUTTER (5 CHAINS) |
| | | 8 SERIES; 468, 568 (5 CHAINS) |
| | | 854, 582 SILAGE SPECIAL (10 CHAINS) |
| | | 7 SERIES; 467, 567 (5 CHAINS) |
| | | S SERIES: S550, S660, S670, S680, S690 |
| | | |
| | | WALKER COMBINE 9400 (4 CHAINS) |
| MODEL TYPE | ITEM # | DESCRIPTION |
| --- | --- | --- |
| | | CASE IH 7230, 8230, 9230, 7240, 8240, 9240, 7250, 8250, 9250 Axial-Flow SERIES (3-4 CHAINS) |
| COMBINE | | CASE IH 5150, 6150Axial-Flow Series Combine |
| | | 130 & 140 SERIES COMBINES (3 CHAINS) |
| | | 5088, 6088 & 7088 AXIAL FLOW SERIES (4 CHAINS) |
| | | CR SERIES COMBINES (5 CHAINS, 2014 AND OLDER) |
| | | AFX 7020, 7120, 8020, 8120, 9120 (3 CHAINS) |
| | | 2100, 2300, 2588 AXIAL FLOW SERIES COMBINE (5 CHAINS) |
| | | RB, RBX, BR AND BR-A SERIES (5-8 CHAINS, 2014 AND OLDER) |
| | | RB BALER KIT - 465 AND 565 MODELS 2015 AND NEWER - LESS ROTOR CUTTER |
MODEL TYPE

ITEM #

DESCRIPTION

605 SUPER M, 604 SUPER M, 605M & 604M (7 CHAINS)

505 & 504 M CLASSIC, 5410 REBEL, 665 & 664 RANCHER

(5 CHAINS)
| MODEL TYPE | ITEM # | DESCRIPTION |
| --- | --- | --- |
| | | |
| | | 900, 5400 & 5500 SERIES (9 CHAINS) |
| | | 7 SERIES, 447 - 567 (5 CHAINS) |
| | | 6 SERIES WITH WIDE PICK-UP (8 CHAINS) |