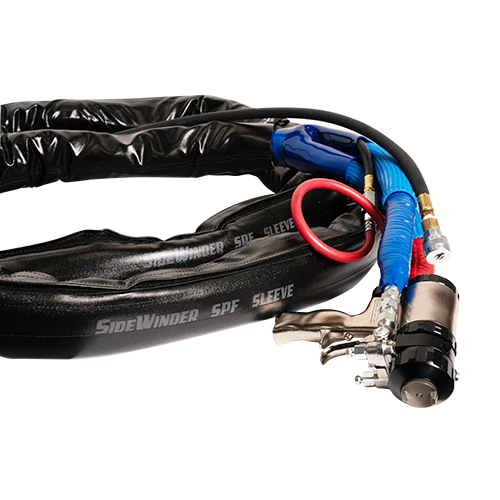 Sidewinder spray foam sleeve



Spray hoses take a beating when pulled around job sites. Sidewinder remains the "go-to" solution in applications requiring protection from moisture and heavy abrasion. But operators struggle to maneuver the tangled, bulky, and cumbersome lines along with their fresh air hose. What if they could work together?
We developed the Sidewinder SPF Sleeve with an external pocket to bundle your fresh air hose.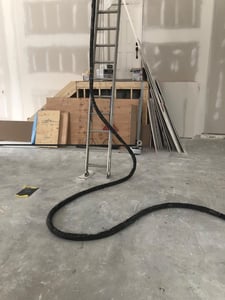 unmatched protection
Available in non-insulated and radiant-lined versions with and without the fresh air hose pocket, the Sidewinder installs in minutes and offers unmatched protection from heavy abrasion, moisture, and temperature energy loss.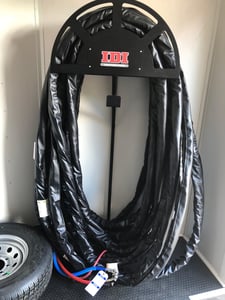 Temperature loss resistant

Sidewinder helps control viscosity, protects your proportioners, and maintains ideal temperatures under varying conditions. The insulated version can reduce temperature loss by up to 60 percent.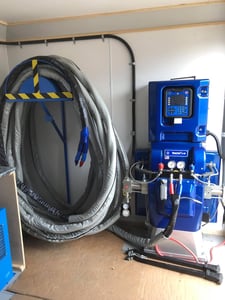 high yield

By containing thermal energy, Sidewinder helps maintain the optimal spray temperature for roofing, jacking, and insulating in polyurethane and polyurea applications. The Sidewinder SPF Sleeve protects in wet, high UV applications and remains extremely flexible in temperatures ranging from -60°F to 250°F.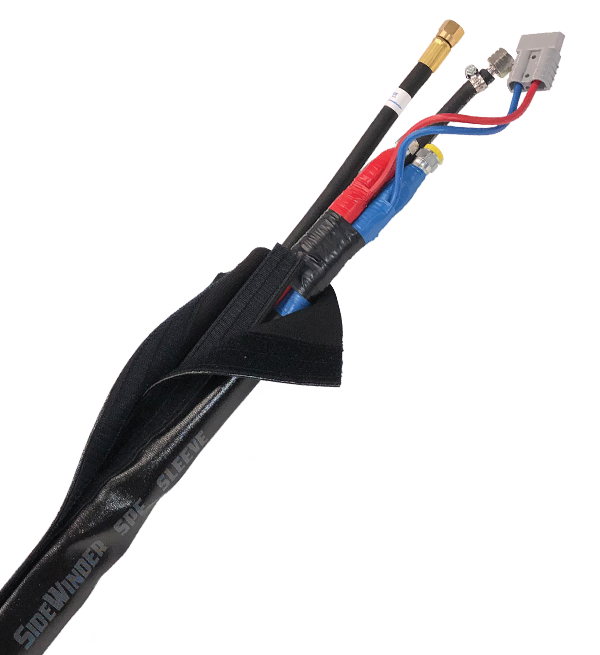 OPTIMAL SOLUTION
This revolutionary product offers the following benefits:
Low profile – easy to drag.

Military-grade hook and loop closure reduces installation and/or service time by up to 70 percent.

Configured to fit coupler guards and whip hose sections.

Reduces temperature loss for up to 60 percent energy savings.
What does that mean for your operations?
No more repairing heavy hose socks and replacing tattered duct tape, costly FTS cables, FTS sensors, and defective whips. The Sidewinder SPF Sleeve incorporates the most advanced insulation and abrasion-resistant materials to enhance sprayability and provide higher yields when pushing foam—resulting in more profits.
With the fresh air hose pocket, operators can concentrate on the job at hand instead of fighting another hose.
Sizing & Ordering Information
| DIAMETER (IN) | ITEM # | DESCRIPTION | COLOR(S) |
| --- | --- | --- | --- |
| | | NON INSULATED SLEEVE - 50' W/ END STRAPS | |
| | | NON INSULATED SLEEVE - 50' W/ END STRAPS, & FRESH AIR HOSE POCKET | |
| | | NON-INSULATED COUPLER GUARD - 3' W/ STRAPS | |
| | | INSULATED SLEEVE - 50' W/ RADIANT LINER & END STRAPS | |
| | | INSULATED SLEEVE - 50' W/ RADIANT LINER, END STRAPS & AIR HOSE POCKET | |
| | | INSULATED COUPLER GUARD - 3' W/ RADIANT LINER & STRAPS | |
| | | WHIP HOSE COVER - 7' W/ END STRAPS | |
| | | WHIP HOSE COVER - 22.6' W/ END STRAPS | |