air compressor dryers
Remove moisture from your compressed air system.
We understand there's a cost for cutting corners. That's why we take every measure possible to design dryers that eliminate problems caused from a poor air supply. With a Tsunami Compressed Air Dryer, businesses can focus on adding long-term value and avoid the pitfalls associated with low up-front cost alternatives.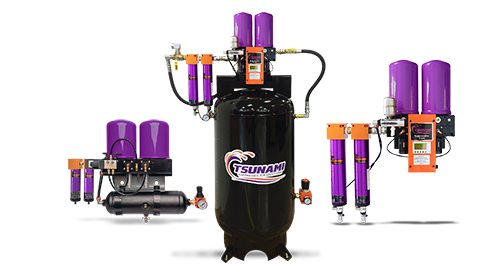 Pure Series Dryers

Ultra Series Dryers

Membrane Dryers

CORE Dryer

5 - 120 CFM

40 - 400 CFM

15 - 20 CFM

25 CFM

Avg. Purge Air

5 - 8%

5 - 8%

22%

N/A

Max Temp/Pressure

150° F / 175 PSI

150° F / 175 PSI

100° F / 175 PSI

150° F / 200 PSI

Storage Tank Model

1 / 30 / 60 gal.

60 / 80 gal.

N/A

N/A

Dryer Controller

Solenoid Timer Valve

Pneumatic Controller Option

PLC

Pneumatic Controller Option

N/A

N/A

Drains

Float or Pneumatic

Pneumatic

Float

Power Required

120v / 220v

120v / 220v

120v / 220v

N/A

Standard Warranty

90 Days / 1 Year

3 Years

90 Days

90 Days

Other Features

Economically Priced

Tank-Mounted Models

Expandable Flow Rates

Over-Sized Filters

Tank-Mounted Models

Rail-Mounted Models

No Electricity Required (float drain model)

Cartridge Style Manual Change Desiccant
THE ADVANTAGES OF AIR DRYERS
By effectively removing moisture and contaminants through the use of a top-notch compressed air dryer, you can safeguard your vital equipment and applications against the detrimental effects of subpar air quality. With the knowledge that compressed air inherently contains water, oils, particulates, and humidity, it becomes increasingly crucial to prioritize proper air treatment.
Through the implementation of a reliable compressed air dryer, you can rest easy knowing that it will efficiently eliminate any lingering contaminants within the air supply. This ensures that your equipment remains shielded from potential corrosion and damage, ultimately prolonging its lifespan and optimizing its performance.
Don't compromise on the quality of your air supply – choose the ideal dryer that will effectively purify the air and protect your valuable equipment for years to come.
Remember:
Compressed air contains water, oils, particulates and humidity.
Proper air treatment will remove contaminants from the air supply.
Clean, dry air protects equipment from corrosion and damage.
Heatless Regenerative Desiccant Air Dryers
Our desiccant air dryers are simple, robust and extremely easy to service. These units are ideal for industrial point-of-use applications where critically clean, dry air is required. Enjoy enhanced efficiency and performance as our dryers come standard with:

Inline air filters


Regenerative desiccant towers

Automatic drains

Timer control valve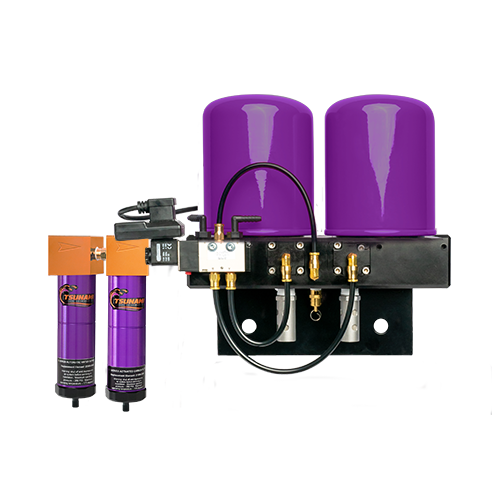 Membrane Air Dryers
Tsunami Membrane Dryers provide an economical solution for supplying clean, dry air without the need for electricity. The molecular makeup of the hollow tubes allows water vapor to pass. The greater the pressure differential between the inlet and outlet pressures, the drier the air downstream.
Inline air filters

Membrane dryer


Automatic drains

Air regulator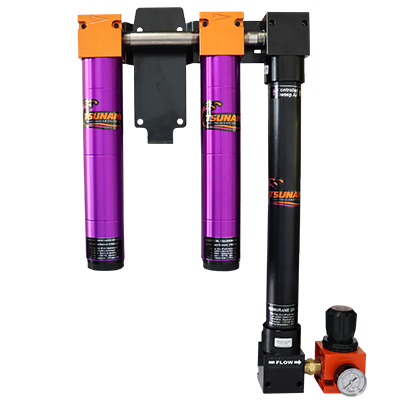 inline air filters
Our air filters come standard with our dryers and can also be purchased separately for point-of-use protection. They are oversized to ensure maximum performance and are made from anti-corrosive materials for superior longevity. A three-stage filter package will remove:

Liquid water
Bulk oils and oil aerosols
Particulates down to.01 micron
Oil vapor down to .003 ppm