Tsunami air dryers
you don't need another air dryer,

you need a better one
We understand there's a cost for cutting corners. That's why we take every measure possible to design dryers that eliminate problems caused from a poor air supply. With a Tsunami Regenerative Dryer, businesses can focus on adding long-term value and avoid the pitfalls associated with low up-front cost alternatives.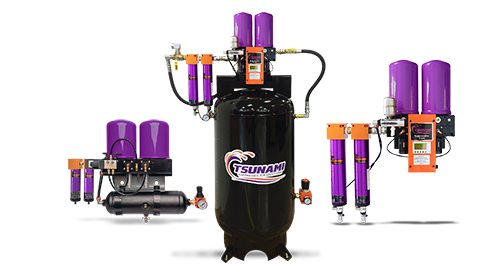 Which dryer is right for you?

Use the comparison chart below. On mobile, swipe left to right.
Pure Series Dryers

Ultra Series Dryers

Membrane Dryers

5 - 120 CFM

40 - 400 CFM

15 - 20 CFM

Avg. Purge Air

5 - 8%

5 - 8%

22%

Max Temp/Pressure

150° F / 175 PSI

150° F / 175 PSI

100° F / 175 PSI

Storage Tank Model

1 / 30 / 60 gal.

60 / 80 gal.

N/A

Dryer Controller

Solenoid Timer Valve

Pneumatic Controller Option

PLC

Pneumatic Controller Option

N/A

Drains

Float or Pneumatic

Pneumatic

Power Required

120v / 220v

120v / 220v

120v / 220v

Standard Warranty

90 Days / 1 Year

3 Years

90 Days

Other Features

Economically Priced

Tank-Mounted Models

Expandable Flow Rates

Over-Sized Filters

Tank-Mounted Models

Rail-Mounted Models

No Electricity Required (float drain model)